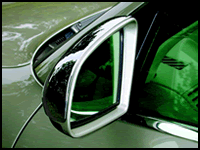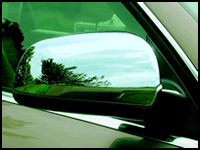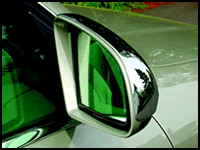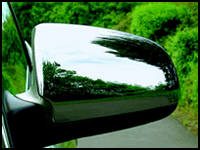 Audi A4 B6 (2002 and newer model years) chrome mirror cap covers. These covers are manufactured by Kamei and are attached to the existing mirror caps by use of a high quality adhesive.

I ended up receiving 8 sets from Germany, and I only ordered two. I am trying to get rid of them.

The kit includes:


Right and left chrome mirror cap covers
Installation instructions
Primer
80 ml of adhesive
Clean up spatula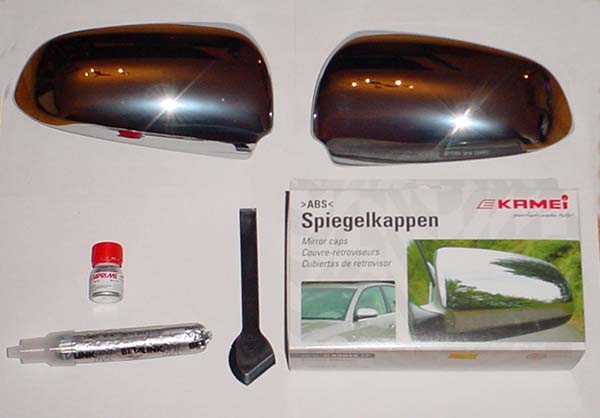 These caps are high quality ABS plastic that are chrome plated. The chrome plating is very high quality and are very hard to photograph. They have a mirror like image. I have had similar type mirror caps on my car for a year and they are in excellent shape. They do not show wear from stones, salt or general weather.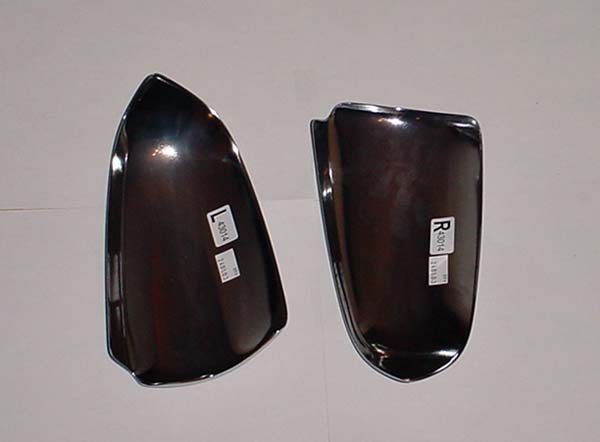 Back Side of Chrome Mirror Cap Covers shown Above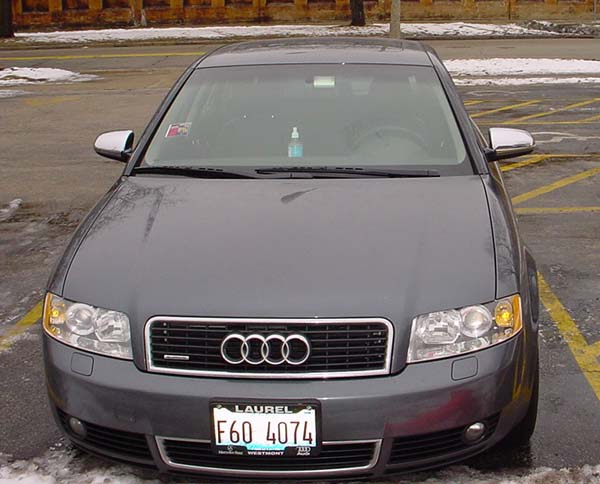 Follow this procedure for installing the mirror cap covers, should take about an hour:
Clean the painted mirror caps to remove all wax and contamination.
Prime the car mirror cap and the inside of the mirror cap cover with the supplied primer. Wait 15 minutes.
Apply adhesive to the inside of the mirror cap cover and the car mirror cap.
Install the mirror cap cover on the car mirror cap.
Using the supplied clean up spatula, remove excess adhesive. Clean up any additional adhesive with mineral spirits.
Secure the mirror cap cover in place with masking tape to allow the adhesive to cure. Let cure for 12 hours.
Remove tape. Do not wash car for 48 hours.

Here is the included instuctions: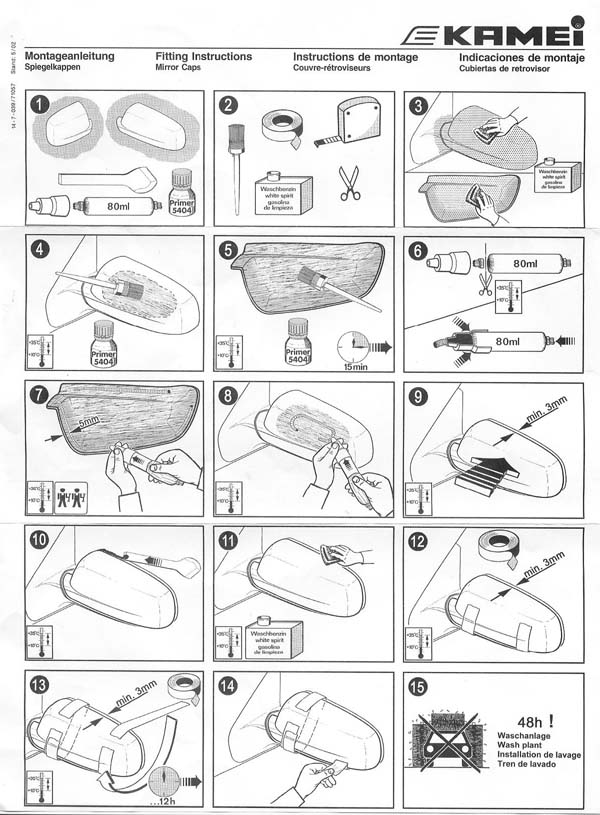 The following pictures were taken with the mirror cap covers NOT ATTACHED WITH ADHESIVE, they are just sitting on top of the mirror caps. They appear to have a great fit, with the adhesive they will be perfect, but you will have to have attention to detail to get it just perfect. About a difficulity of 4 on a scale of 1-10 in my opinion.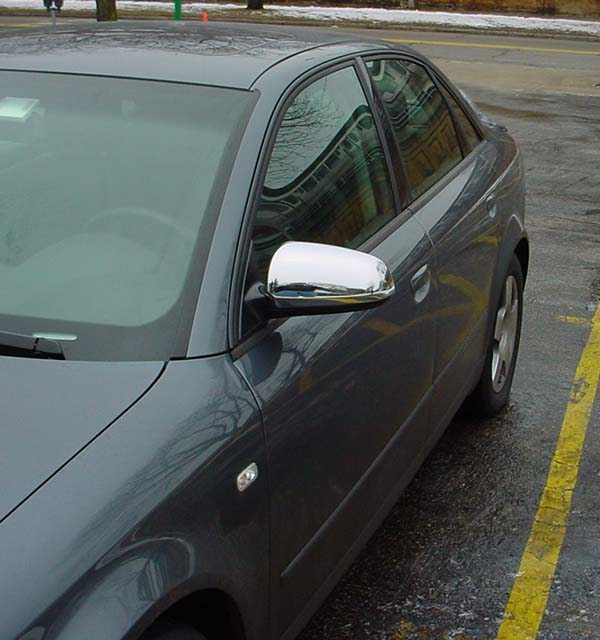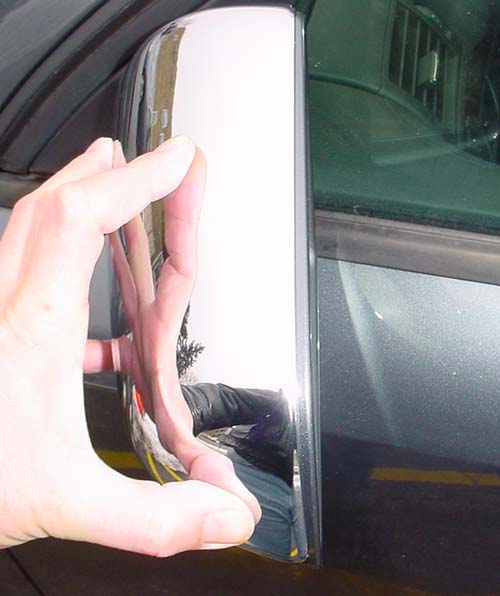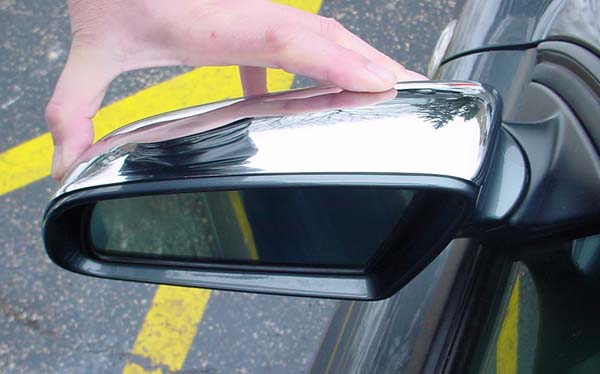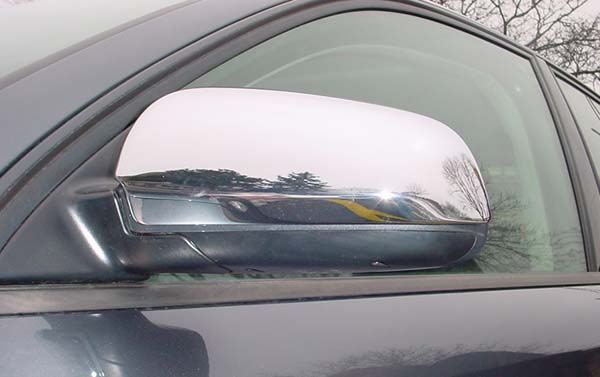 ---
Shipping Your mirror covers and mirror glass removal tool will normally
be shipped the same or next day of receiving payment.

They are in stock and ready to be mailed. They will be shipped via USPS Priority Mail
with delivery confirmation. You can track your package at


www.usps.com/shipping/trackandconfirm.htm


Mirror covers will be shipped anywhere in the 48 states for a flat
$7.00 shipping and handling fee.

Other countries will be shipped via Air Mail
(usually seven day delivery) for the following shipping and handling fee:

Canada $15.00

Mexico $17.00

UK, France, Greece, Italy, Germany, Belgium and other parts of the EU $20.00

Austrilia, Japan and New Zeland $25.00



---
Cost and Payment Cost is $100 plus $7 for shipping and handling.

Will accept PayPal, money order or personal check. Personal checks will be held for five days.
If you have any questions, please email me at paul@audipages.com. My PayPal address is also paul@audipages.com.
Pay me securely with any major credit card through PayPal!